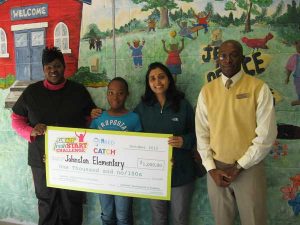 Augusta, GA, October 29, 2012 – Tracking their good food and activity choices paid off for two students in the CSRA, who are grand prize winners in the Fresh Start Challenge sponsored by local SUBWAY® restaurants. Elizabethann Obata, a kindergarten student at Heritage Academy in Augusta, and Connie Stevens, a fifth grader at Johnston Elementary School in Johnston, SC, won the random drawings from local submissions.
Jared Fogle, national spokesperson for SUBWAY® restaurants, congratulated the winners via video in an award ceremony held today at the schools. The winners will receive a sub party for their class and their school was presented a $1,000 CATCH® fitness grant through the Jared Foundation to purchase equipment and education resources.
"Thanks to all the students who participated in the Fresh Start Challenge," said Fogle. "I truly hope the healthy habits you showed for the month will continue the rest of the school year and beyond. At the Jared Foundation, we really believe healthier kids lead happier lives."
According to long-time CATCH® investigator Steven Kelder, M.P.H., Ph. D., co-director of The University of Texas Center for Healthy Living at Austin, a review of the student submissions shows over a four-week period children reported:
Increasing the number of meals and snacks that included fresh fruits and vegetables
Decreasing screen time by 1.5 hours
"Overall, the initial results from 123 pilot test contestants are encouraging," stated Dr. Steven Kelder. "Students met the challenge of eating healthier and reducing screen time."
The Fresh Start Challenge was held during August and September and open to students ages 5 to 14.