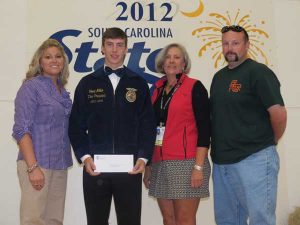 Trent Miller, a senior at Strom Thurmond High School, was awarded the 2012 SC Association of Fairs Academic/SAE Scholarship.
Miller was one of four students to earn a $500 scholarship presented by the South Carolina FFA Association on behalf of the SC Association of Fairs for excellence in Supervised Agricultural Experience (SAE), FFA Leadership, School and Community Activities and Scholastic Ability.
Miller was supervised by agricultural education teachers Darla Steele and Jeremy Brooks.
Miller was presented with the award Oct. 16 at the 2012 South Carolina State Fair in Columbia before a statewide audience of FFA members, agricultural educators, and agricultural industry leaders.
Dr. Thomas Dobbins, Agriculture Division Chair of Clemson University's School of Agricultural, Forest, and Environmental Sciences (SAFES), told the assembled crowd, "Thanks to young people like you, the future of agriculture in South Carolina and across the U.S. is strong. FFA participants will help solve the world's big problems like increasing global food supply to feed our ever-increasing population."