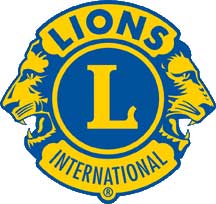 The Edgefield Lion's Club had its monthly meeting on Monday, October 8, 2012, in the Edgefield United Methodist Church Fellowship Hall.   Lion members enjoyed a wide variety of food prepared by the members.
Lion President Roger Timpson welcomed members and recognized the guest speaker, Greg Anderson, Superintendent of Edgefield County School District and his wife Patty Anderson.
Mr. Anderson stated that the State of South Carolina had eighty-one school districts and Edgefield County had only one school district.  The Edgefield County School District is governed by a Board of Trustees which has seven members who are elected from single member districts within the county of Edgefield.  The School Board has fiscal autonomy and the authority to levy taxes to support the general operations of the School District.  This year the School District only increased the tax levy one mill; however, by law they could have increased up to the maximum amount of six mills.
The Edgefield County School District has a budget of $25 million.  There are 443,000 lunches and 294,000 breakfasts served yearly by the Food Services Department by their certified dietician.
The School District has 47 buses traveling 132 routes per school day with 47 drivers and 16 substitutes on call.  The buses travel approximately 4,100 miles per day throughout Edgefield County.
In addition, the School District awarded over $2 million in scholarships.  Adult Education classes are taught on Tuesday and Thursdays and beginning in 2014 the GED program will be computer based only.
Currently the School District has obtained financing of a $5 million bond issue with part of the funds used for the new redesign and expansion of the football stadium.
Mr. Anderson stated that Edgefield County was fortunate to have the best teachers in the State to teach and educate their children.  The new motto for the School District, "Preparing Our Children for the Real World the Right Way" is evident in the commitment of the school's trained and professional teachers.  Since becoming the new superintendent, Mr. Anderson's goal is: 1) Stabilize the School District, 2) Formalize a plan of action, and 3) implement the plan.
Edgefield County School District's mission is, "To develop lifelong, self-sufficient learners and productive citizens." 
Following the presentation Mr. Anderson answered questions from the Lion members.
Afterwards Lion Carroll Wates gave a financial report with two pending eyeglass applications.
The meeting was adjourned with the next scheduled meeting on Monday, November 12, 2012, at 6:00 pm in the Edgefield United Methodist Church Fellowship Hall, 309 Norris Street.   The public is cordially invited to attend and share in the meetings.
Lion Club brooms are available from Lion members throughout the year.
Respectfully submitted:  Arlene Traxler