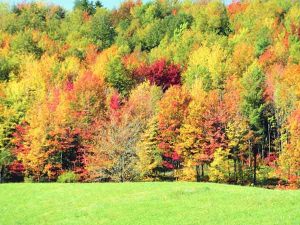 Columbia, S.C. – For many, it's forestry's version of the old Sears catalog — the Forestry Commission has just published a much anticipated new Seedling Catalog.
Annual seedling sales have begun for savvy landowners who want to put their orders in ahead of this winter's tree planting season.  The Forestry Commission remains a key provider of forest tree seedlings to South Carolinians planning reforestation of their land.
The Commission's Taylor Nursery grows 35 varieties of trees for sale, including pines, hardwoods, and Christmas tree species.  This nursery is one of the state's leading providers of hardwood and containerized longleaf pine seedlings.
This year, the agency is growing 1.8 million longleaf seedlings, down somewhat from last year.  They are expected to be in high demand so orders should be placed as soon as possible.  Foresters working at the Commission strongly recommend fall and early winter planting for better seedling survival.
 Back by popular demand:  PRICE BREAKS!
Commission staffers have added more price breaks to help customers save money.  This season, price breaks kick in at the 10-, 50-, 100-, 500- and 1,000-seedling quantities.
 Orders placed now may be scheduled for UPS shipping or for pick-up at the Commission's Taylor Nursery in Edgefield County beginning in December.  More information and our catalog are available at www.trees.sc.gov/nur.htm, or by calling the nursery at 803-275-3578.
Planning for future generations of trees (and your family)
As the economy recovers in the next few years, we expect there to be a continued demand for pulpwood.  Additionally, as the housing market recovers, we expect an increasing demand for South Carolina sawtimber.  Energy markets emerging now may hold exciting possibilities for forest landowners in the Southeast too. Landowners who plant now may be able to take advantage of higher wood prices in the future.
The Commission remains committed to genetic improvement of South Carolina's forest resource.  We're growing more 3rd generation loblolly seedlings this year (around 125,000).  Our 3rd generation orchards are still young and we will be growing more and more in the years to come.  Eventually, they'll replace completely our 2nd generation seedlings.  Progress in this arena is vital.  Forest industry-related businesses comprise the number-one manufacturing sector in this state's economy, in terms of jobs and salaries paid.
AT A GLANCE:
South Carolina Forestry Commission seedlings are now available
Orders placed now may be scheduled for UPS shipping or for pick-up at the Commission's Taylor Nursery in Edgefield County beginning in December.
More information and our catalog are available at www.trees.sc.gov/nur.htm, or by calling the nursery at 803-275-3578.
The Palmetto State boasts 13.1 million acres of forestland (68% of the state's total land area)
88% of South Carolina's forests are privately owned
64% of private forests are family-owned
The average family forest is 66 acres, 74% of these owners live on the land
Total economic impact of forest industry to the SC economy is $17 billion annually