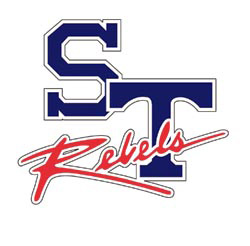 Last Thursday night at about 7:45 the sign painter could have been summoned to the scoreboard at Strom Thurmond High School for the annual painting of the Region Championship citation.  Midland Valley, a gallant lot, never had a chance.  Strom Thurmond's Darius Hammond had scored on a 79 yard burst less than a minute into the game and the Rebels dominated from there ending regular season with a 42-0 win over the Mustangs.
As they have all season the Rebels gathered points in all aspects of the game.  At mid point of the first quarter Ty Brooks took a punt and ran the gauntlet for a 54 yard TD.  Ever dependable #99 Trent Miller kept adding extra points and the Rebels were to be ahead 21-0 at the end of the first quarter scoring the last TD on a 61 yard pass from Jauveer Hammond to Brooks.
It was in the second quarter that the Rebels executed their signature offensive tactics.  After holding Midland Valley out of the end zone on fourth and goal the Thurmond steamroller took over and marched the full length of the field in 12 plays culminating with #11 Darius Hammond crashing into the end zone from 4 yards out.  It was obvious to those watching the game that any hope that the Mustangs might have had escaped them following this demoralizing pounding from the Rebels.
Coach Lee Sawyer brought his charges out of the locker room following the half and mechanically put 14 more on the scoreboard before loading the field with clean jerseys for the remainder of the contest.
Strom Thurmond will host Hilton Head next Friday night while Midland Valley managed to fend off Gilbert for third place in the region and will travel to Berkeley for their first round playoff game.
ST       21        7          14        0
MV     0          0          0          0
Individual Stats:  Rushing-Darius Hammond 14-153-2TD, Jauveer Hammond 8-46-1TD, Chad Gilchrist 4-28, Delonte Bates 6-27-1TD, Trevonte Watkins 2-11, Tyree Stidem 1-0
Passing-Jauveer Hammond 5-7-116-1TD  Receiving-Ty Brooks 4-100-1TD, Kendall Hill 1-16