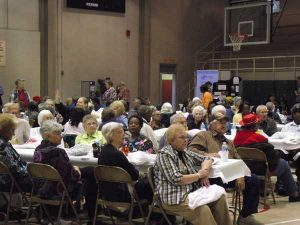 A very large turnout of senior citizens showed at the Edgefield gym on Thursday, mid day, for the fall festival activities that bring them together in October for fun, recognition and good food.
This day the gym floor was divided into lined tables for eating, desserts set up to the side, and a big open space for games. Toward the end of the program a group gathered in a circle for one of the games – this one was "pass the cake."  Great songs that inspired movement were playing. A cake was passed around and when the music stopped, the person holding the cake was awarded another cake from the dessert table.  What a sweet idea!  Especially when loaded with cakes, as the able seemed to be.
It was reported that every senior there got a gift.  The special gift of the day from Tidwell Jewelers was a pearl necklace and Joan Morgan was the happy recipient.