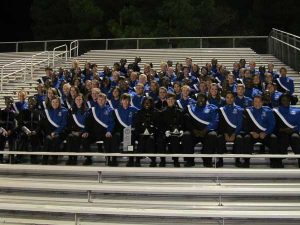 The Strom Thurmond High School Rebel Regiment are the 2012 SCBDA AA Lower State Champions.  They received a Superior rating for their performance Saturday, Oct 20, at West Ashley High School in Charleston. The AA Division consisted of 15 Schools from all across our great state.
The show is entitled "Double Agent."
The band directors are Van Clark, Justin Craig and Dave Hill.
Colorguard Instructors are Tevin Middleton and Candance Craig.
Colorguard Coreorgraphers are Jonathon Colvin and Tevin Middleton
The Percussion instructors are Brian Turner and Tim Altman.
Music arrangers are Matthew Smith and Jason Frith.
Drill Writer is Jeffrey Fackler.
Drum Majors are Stephan Bowe and Keylondria Crouch.
The Band Captain is Nic Hoffmann.
Sarah Brown as Marching Instructor.
Section Leaders are:
Flutes – Amanda Biddlecome
Clarinets – McKenzie Wilson and Madison South Saxophones – Daniel Pena Mellophones – Mills Dorn Trumpets – Miguel Ortega Trombones and Baritones – Nic Hoffmann Sousaphones – Malik Moore Battery – Kaitlyn Truesdell Bass Drums – Dayna Barnhart Front Ensemble – Christa Turner Color Guard – Shaquanna Miles and Olivia Brown
Soloists: Madison South, McKenzie Wilson, Miguel Ortega
Music is by Frank Sullivan, and is arranged by Matthew Smith.
The Regiment will compete in the State Championship this Saturday.  Show time is 2:45 at Spring Valley High School in Columbia.