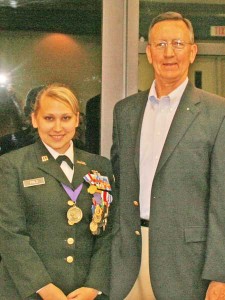 On Tuesday night, October 23, 2012, during the regular scheduled meeting of the Edgefield County School Board, Cadet Lieutenant Jacqueline Polz was presented The Legion of Valor's Bronze Cross Award for Achievement.  Colonel (ret.) John O. Benson of Pendleton, South Carolina, a Silver Star recipient, was on hand to make the presentation assisted by Captain (ret.) Kenneth L. Gray, Senior Naval Science Instructor Strom Thurmond High School.
The legion of Valor of the United States is an organization composed of Medal of Honor, Distinguished Service Cross, Navy Cross or Air Force Cross recipients.  The distinguished Legion of Valor Bronze Cross for Achievement is awarded to outstanding cadets to recognize achievement of scholastic excellence in naval science and academic subjects and to stimulate development of leadership.
In recommending Cadet Polz for this prestigious award the Senior Naval Science Instructor at Strom Thurmond High School submitted the following statement:  "There is no student in the junior class of Strom Thurmond High School that can boast a higher level of performance in these areas than Jackie Polz.  She is, without question, the best all around student in her junior class and, most likely, in the junior classes of all area high schools."
Supporting the recommendation was a lengthy list of Cadet Lt. Polz's achievements including but not limited to: a 4.9 GPA, hundreds of hours of community service, church, civic and local activities and her selection to serve as class leader for over 100 cadets attending MAST camp hosted by the South Carolina National Guard. Also cited were her quick actions that significantly reduced the seriousness of injuries suffered by a family that she and her parents saved from a burning vehicle.  For her actions Lt. Polz was awarded the US Navy Meritorious Achievement Award, the highest civilian award given to NJROTC Cadets.
Strom Thurmond High School senior Jackie Polz will attend N.C. State next fall and major in Nuclear Engineering with plans to go into Nuclear Medicine.
Following the awards presentation Board Chairman Brad Covar stated,  "In all my years as a member of The Edgefield County Board of Education I do not recall a higher honor being awarded to one of our students."