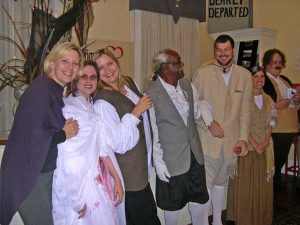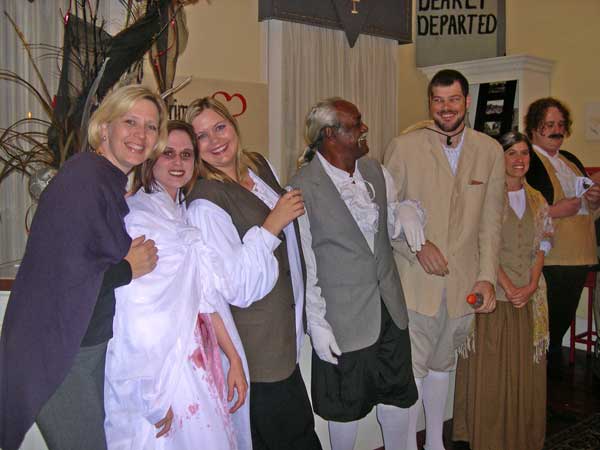 Fresh faces, masterful staging and a local playwright writing about local history – all reasons to believe that the Edgefield County Theatre will continue successfully. Becky Cotton made for a really interesting play – dark humor no doubt, a way for us to hear about her with more acceptance as a part of our social history.  The audience can come to know the person who could do such a deed.
Remarking on the "dark comedy," one member of the audience stated with a smile, alluding to the suspense of the play, "It might make my husband think before sleeping too soundly tonight."
Dramatist Tricia Glenn, in a new genre for her, did some research for this play; however, as she says, "I have been hearing of Becky Cotton for the last 18 years." She explained in a brief interview before the play on Saturday evening that there are several versions of the story of Becky's murderous ways (nightshade poison was one such method she is supposed to have used.), but she chose the one of Parson Weem's. "He actually met Becky," she says.
To give the play authenticity in terms of what was happening in Edgefield at the time of Becky Cotton's life span (this was late 1700s to early 1800s – before The Edgefield Advertiser, an important milestone for certain citizens), the author has mentioned other happenings, such as Ned Finley's murder of his wife, for which he hanged.  This event preceded, in history, Becky's heinous deed.
Another authentic case presented in a courtroom scene is the trial of Dudley Roundtree who bit off an ear in a fight, played so well by brother and sister duelists (Mitchell Bland as the man on trial; Caroline Bland, his sister, as the "man," Henry Potts, who is the one-eared victim).
What is so inviting about a community theatre is that this sister and brother are well known in the community – they own a store together. They are local and community. There were other such faces, many newly seen on the stage in Edgefield: Walt Bagshaw, a 19-year-old who portrays a Southern lawyer with language and posture to match customs thought humorous in "My Uncle Vinney"; an African-American, the second on this stage, whose antics brought laughter and who showed, with what one might feel as poignancy, the situation of his race at that time; a young Aikenite who held her character well from first act to finish, two times she was seen; the president of the sponsoring organization ECHS, acting as Parson Weems who wrote the scathing sermon about Becky and her evil deed; Edgefield's potter Justin Guy playing the brother who settled a score with his sister and disappeared.
The staging, largely the art of the director Susie O'Neal (assisted in directing by Beth Worth), was masterful in its use of this proscenium that is longer than it is deep.  Only recently have they placed entrances along the back wall to onstage.  Entrances were usually from either side.  This play introduces a silhouette portrayal of an axe murder, full of tension and, later, blood (as seen on the assailant's gown). Better than Shakespeare for there weren't just the noises offstage.
Becky Cotton, played by Ashley Hatcher, was convincing in her beauty and grandiosity, both of which brought her to her young death by her brother who had witnessed the extremes to which her personality took her.
Sponsored by the Edgefield Historical Society, this play should be brought to the stage often enough that every generation can have the opportunity to "own" Becky Cotton, as history and icon of the violence that is in the history of Edgefield. This was not violence perpetrated by war, or the breaking of a social covenant which was the reason for many duels.  This murder came from a mal formed personality that is very much a part of human nature, ongoing.
Everything cannot be addressed in this review, but one must call attention to the costuming which both added to the humor of the play (especially those stylized wigs) and infused authenticity – necessary even for dark comedy.
The ending carries the story forward to our time, especially meaningful as we enter the season of All Hallow's Eve.