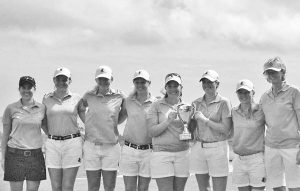 MOUNT PLEASANT, S.C. – Anne Marie Covar turned in the  lowest 54-hole score all-time with a 214 to win the Bulldog Invitational as the Wofford women's golf team won the event with a new team 54-hole record of 884 at the par-72, 6,000 yard Patriots Point Links.  Covar's 214 came after scores of 71, 73 and 70.  Her 214 is a career-low and broke the school record by three strokes.  The former 54-hole record of 217 was set by Alex Rankin at the Gainesville Shootout on March 13-15, 2008.
Wofford finished 11 strokes above Bethune-Cookman, who took second with an 895.  Wofford's 884 shattered the old 54-hole record of 921 set at the Cougar Fall Invitational on October 11-12, 1999.  Wofford shot an opening round 285 to set a new school record for an 18-hole low team score.  They followed with a 303 in round two and 296 in the final round.
Following Covar was Lauren Dunbar with a 70-76-73—219 in third, while Alex Hendricks took seventh after a 71-79-72—222.  Maegan Higgins finished with 72-75-86—234, and Emiley Pagrabs carded a 78-80-81—239. Competing as an individual, Elizabeth Thompson finished tied fourth with a 73-71-76—220.
Anne Marie, the daughter of Brad and Genna Covar of Edgefield, is a former outstanding student athlete at Strom Thurmond High School.
Wofford competes in the Wendy's Invitational in Charleston, S.C. for its next tournament.