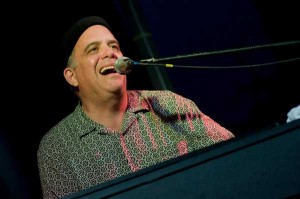 Charleston blues music icon Shrimp City Slim will make a return appearance in Edgefield this Friday, November 30 as part of the "Blues Blues Christmas Party."
Show time is 7 p.m. at the Edgefield Discovery Center, 405 Main Street in Edgefield. Tickets are $10 and may be reserved by calling 803-257-7669 or 803-637-3833. Refreshments are BYOB with set-ups provided. The event will be hosted by local radio personality, Tony B of WKSX-FM.
A native of Chicago, Shrimp City Slim is celebrating 25 years as a blues performer, headlining more than 150 shows per year, solo and also with his great band, throughout the Southeast and overseas. He has released eight CDs to date; the latest solo piano CD is entitled "Rio Angie."
As bandleader, Shrimp City Slim has traveled extensively in the USA, Europe and Asia and just completed a tour of eastern Europe and Scandinavia. He has appeared with such blues greats as Walter "Lightnin' Bug" Rhodes, Big Boy Henry, Chicago Bob Nelson, Drink Small, Beverly Guitar Watkins, Neal "Big Daddy" Pattman, Wanda Johnson, John Lee Ziegler, and others. His latest side project is collaboration with south Louisiana singer Swamp Pop Shelly.
Shrimp City Slim is organizer of the Lowcountry Blues Festival, the Pee Dee Blues Bash, the CarolinaDownhome Blues Fest and others. His live show consists of blues classics as well as original tunes – plus the Edgefield show willfeature bluesy Christmas music.