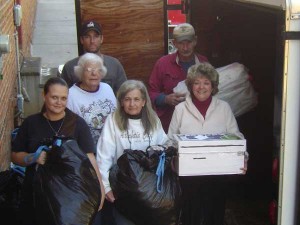 By Bob Stockton –
"Savannah Lakes Village people are the greatest people in the world," said Martin Bailey of the Children's Hope Store in McCormick.
Bailey and a half dozen volunteers are collecting, packing and delivering materials to aid winter storm Sandy victims in the New Jersey area, and he's obviously gotten great response from Villagers.
"Of course, the retirees from the north have plenty of winter clothes, and it probably helps that they know their donations will be going back up north," Bailey said. "Whatever, Villagers have given us 99 percent of what we've received."
Bailey embarked for New Jersey this past Monday and plans to deliver trailer loads of aid each Monday for an indefinite period of time.
"Our store is full, and I'm trying to get storage containers to store more that is coming in every day," he said. He's using his own 10-foot-long trailer to deliver the goods.
Potential donors should "think camping out in the cold," said a volunteer. Items needed include shoes, canned food, winter clothes, blankets, charcoal grills, sleeping bags, paper plates, plastic eating utensils, toilet paper, flashlights, lanterns and batteries.