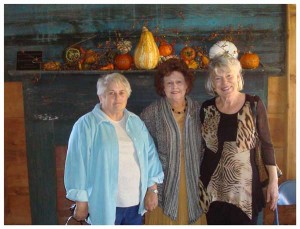 By Judy Dancy Duncan, V-P Saluda County Historical Society –
Saluda County Historical Society celebrated its 25th Anniversary in October with a tour which included the birthplace of Alamo hero James Butler Bonham who was born in this house in 1807 and, it is thought, in the room shown in the photo.  The house was built near Richland Creek and on the road to Charleston in the early 1770s by James Butler Bonham's grandfather Jacob Smith.  The Bonham house, called Flat Grove by the Smiths and Bonhams, has been preserved and restored by the Saluda County Historical Society.   The Society welcomed Adrianne Bonham, 2nd great-grand niece of James Butler Bonham, who traveled from Alto, Georgia, to visit the house during the 25th Anniversary Celebration. The Society also welcomed Sarah Matthews Ard, granddaughter of Anna Wightman Matthews, who lived in the house from her birth in 1876 until her death in 1959.
Adrianne, who had seen the house when it was first donated to the Saluda County Historical Society, was pleased with the restoration done since her first visit.  The Society truly picked up the house's sills from the red Saluda clay and performed many house-saving tasks such as the replacement of the chimneys, the roof, and the clapboard.  Adrianne Bonham is descended from Malachi Mark Bonham, the older brother of James Butler Bonham. Malachi Mark Bonham moved his family to Alabama soon after James Butler Bonham went to Texas.  Malachi's family moved to Texas about 20 years after his brother died there.
Sarah Ard, whose brother Edwin Matthews gave the house to the society, donated a fine oak bed and bureau which had belonged to the Herlong/Boyd family and later to the Wightman/Matthews family, both of whom lived in the house from 1856 (when Henry Conrad Herlong sold it to Frank Boyd) until the 1960s.   Sarah remembers spending the night twice a week in the back bedroom with her grandmother Anna Wightman Matthews. Bela Herlong recalls that her father, Davenport Padgett, called the place "Flatty Grove," so the name Flat Grove was also known to generations of Boyds, Herlongs, Wightmans, and Matthews. The back bedroom wall color was matched to the color "Tudor Ice" from Rose Talbert Paint Company, a color approved by the Society for the Preservation of New England Antiquities.  Members of the Saluda County Historical Society primed and painted the back bedroom with the matching "Tudor Ice" paint, and it was decorated with the donated furniture and appropriate bed linens and accessories for the 25th Anniversary tour.
Should you wish a tour of Flat Grove, contact the Saluda County Museum, 105 Law Range, on the Courthouse Square (864) 445-8550.  The Museum is open M – F 10 am – 4 pm and S 10 am – 1 pm.  If you would like to take part in "Preserving the Past, Shaping the Present, and Illuminating the Future," join the Saluda County Historical Society.