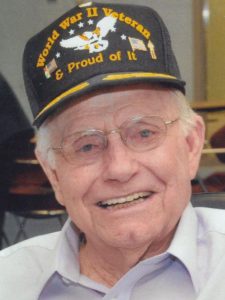 STANFIELD, N.C. – J. D. "Bo" Chrisco, 85 years of age, of Stanfield, formerly of Asheboro, passed away Wednesday, November 21, 2012 at the N. C. State Veterans Home in Salisbury.
Mr. Chrisco was born November 16, 1927 in Meriweather, S. C. to the late Hugh Leason Chrisco and Hattie May Brower Chrisco.  He was also preceded in death by nine brothers and sisters.
Mr. Chrisco served in the U. S. Navy during World War II as a Fireman Second Class.  He worked for Klopman-Burlington Transportation in Burlington for 32 years.  He moved to Stanly County after retirement so he and his wife could be closer to his daughter and granddaughters.  He enjoyed Bluegrass music and spending time with his granddaughters.
The funeral service will be at 3 p.m., Sunday, November 25, 2012 at Love's Chapel United Methodist Church in Stanfield.  The family graveside services will be held at the Salisbury National Cemetery at a later date.
At other times, the family will meet at the home of his daughter, Sandy Hatley, at 5036 Rushing Road, Stanfield.
Survivors include his loving wife of 62 years, Treva Jane Cox Chrisco, of the home; his daughter, Sandy C. Hatley and her husband, Gary, of Stanfield; his granddaughters, Katie Hatley Brooks and her husband, Nathan, of Apex; Kellie Hatley and her fiancé, Brandon Sides, of Stanfield, and Kacie Hatley of Stanfield; two brothers, Ernest Chrisco and Ben Chrisco, both of Edgefield, S. C.
Memorials may be made to Love Chapel United Methodist Church, 809 S. Love's Chapel Road, Stanfield, NC 28163.
Hartsell Funeral Home of Midland is serving the Chrisco family.