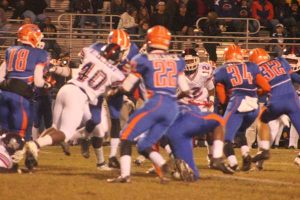 Strom Thurmond High travelled to North Charleston last Friday night and took the third round playoff game from Hanahan 27 to 10.  This win sends the Rebels to the lower state championship game to be played at Strom Thurmond this Friday night.  Kickoff is scheduled for 7:30 p.m.
The game at Hanahan started off just as was anticipated with the Hawks and Rebels fighting like twin brothers with neither managing much of an advantage during the first 24 minutes. Rebel sophomore defensive back Israel Talbert took on the giant Hanahan receivers time after time and made them question their decision to try and pick on him because of his size and youth.
The Hawks scored first with about 4 minutes remaining in the first quarter when Haven Horlback kicked a 23 yard field goal.  Shortly thereafter Head Coach Lee Sawyer proclaimed that he had a kicker also and sent #99 Trent Miller onto the field for two 29 yarders in the second quarter sending the visitors to the locker room with a 3 point lead.
The beginning of the third quarter saw Hanahan make what was probably the their biggest mistake of the evening, regardless it would be their final points of the game.  An 80 yard pass play to Sammy Richardson put the Hawks ahead for 1 minute and 10 seconds.  It was at this point that Strom Thurmond's Shrine Bowl running back took charge of the game and scored 18 unanswered points to lead his team to victory.  Hammond's first of three was vintage Rebel Football as Ty Brooks returned the kickoff to the 43 yard line followed by a quick stike from Jauveer Hammond to Kendall Hill.  From that point it was J. Hammond by D. Hammond all the way to the touchdown.
The outbreak of scoring by #11, that included 109 yards worth of Darius Hammond, put Hanahan so far back on their heels they remained on their backside for the remainder of the contest.
Strom Thurmond's opponent, for the Lower State Championship, will be the Hartsville Red Foxes.  The Red Foxes secured their playoff championship appearance by beating Socastee last Friday 40 to 14.  The Hartsville team is undefeated in 2012.
Common opponents in 2012 were Swansea and Marlboro County.  Hartsville defeated Swansea in the second round of the playoffs 49 to 36 while Thurmond won 42 to 7 in regular season.  The Rebels beat Marlboro County 37 to 13 in the second round while Hartsville beat them 34 to 14 in regular season.
The Upper State Championship will feature Daniel against Union County.