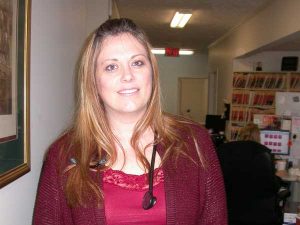 Sarah Cabri Tripp, Nurse Practitioner, is now serving in the medical community of this county, in Dr. Hugh Morgan's office, Johnston.  She has been there now for three months and says, "I love it here."
Sarah says her patients ask: "You are not going to go anywhere are you?" Her answer is: "I am here to stay."  Although her drive each day is from over the line in Georgia, she is not deterred by that.
Ms. Tripp was born in Yakima, Washington.  Her schooling was first for bio-medical equipment technician.  Then, while serving in the military, she gained more education that brought her through the Bachelor of Science in Nursing to the PA degree which she serves with now.
She refers to herself as a nurse first of all, and believes that her profession has helped to develop the quality she owns, and proudly, of listening well ("my listening is acute") to her patients. Her training was diverse, taking her through the ER, orthopedic surgery, chemotherapy training, and pediatrics, among others. She noted that she learned at a very young age, while attending the birth of a cousin, that she wanted to be a nurse and assist others in the medical field.
Sarah Tripp lives with her family, made up of her husband (high school sweetheart) and her three sons.