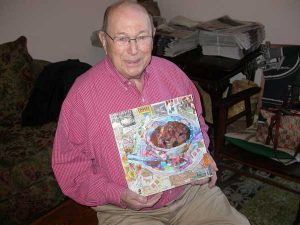 Sir Winston Churchill started painting when he was in his mid-60s. A leader in our community, retired Senior Center Director Jim Griffith, has taken up the paintbrush in his 80s, and is loving it.  Churchill's paintings are now hanging in museums.  Not sure that that is Griffith's interest, but it does say that it is never too late to follow a desire.
Jim Griffith says he has a sister who painted, and he used to watch her.  That was years ago.  More recently (for his 83rd birthday) his daughter brought him some canvases and water colors and other paint equipment, and that moved him forward. He did not choose to use the watercolors, but has found acrylics as his choice medium.  He says it is "more forgiving."
When we heard about these paintings we asked for an interview, and with him came his best supporter, Marianne, his wife.  They are quite a team, traveling back and forth to exercise and to doctor visits together.  They both have had heart surgeries, she more recently, and have a schedule around their health issues, which include exercise.
Marianne attends his art classes also, but she does crochet while he uses the paintbrush, each a form of art.  When he made the jump to wanting to paint, he looked for a beginner's class and found one in Aiken, where he has been producing acrylic works as well as mixed media, including acrylic paint.
Marianne and Jim met at York High School where he was teaching chemistry.  (He is originally from Union, S.C., and she from York.) He attended Wofford where he majored in science (later got a master's degree in Hospital Administration).  He left York to go to North Carolina, and she left Winthrop where she was at the time to follow him, in marriage.  They have been a team ever since.
He says the only painting, of the group he brought for the interview, that came totally from a mental picture he had is that of his dog.(Others he had pictures or images to follow.)  One senses that his "best friend" was pleased with his picture.
The Griffiths are full of good humor and fun to be around.  We asked about a magnolia painting and he said it was originally intended as a wedding gift for his granddaughter, but his son, her father, suggested she would be happier with something else.  So she is getting a whole set of china that they have not used.
The donkey picture is a propos the election season, and happens to be a favorite of his teacher.  He noted that it is a mixed media with tissue paper overlays and color. Another favorite of the interviewer as well as the artist is the cup of coffee (also mixed media). Like so many subjects of art, they are reminders of our favorite things, Maybe not the donkey for Republicans, but coffee is loved the world over.
We will be following this Sunday painter with interest.