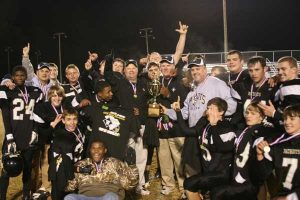 By: Gerald Doolittle –
St. Matthews, S.C. –  Last week the Wardlaw Academy Patriots marched to the campus of Calhoun Academy to defend their SCISA 8-man Football Championship against the Cavaliers of St. John's Christian Academy from Moncks Corner.
After the dust had cleared from the battle the Patriots marched home with a 58-42 victory and another championship trophy to add to the school's mighty collection of hardware earned over the years. The victory gave Wardlaw an 11-1 record for 2012.
Since dropping down to SCISA 8-Man football the Patriots have won titles in 1999, 2002, 2003, 2008, 2009, 2011 and 2012.   Five of those seasons have been undefeated seasons with a combined record of 85-4.  The Patriots still own the longest win streak in SCISA history with the 28 straight won with the 14-0 seasons of 2002 and 2003.
Malik Lee was the super star of this title game rushing for 419 yards on 42 carries.   He scored seven touchdowns on runs of 3, 38, 48, 14, 15, 43 and 49 yards.    He did most of his damage in the second and third quarters rushing the ball 28 times for  306 yards and 5 touchdowns.  He also had 2 returns for 31 yards.
Tied at 22-22 after two quarters the Patriots took control of the game in the third quarter having the ball 23 offensive plays to St. John's 6.   For the entire second half the Patriots controlled the ball 41 offensive plays to the Cavaliers 13.    Aiding the Patriots with this second half ball controll were the two on sides kick recoveries after touchdowns.   Those two recoveries took the fight out of the Cavaliers.
Holton Manly and Kerry Cockrell each had 10 carries in the game for 43 and 36 yards.   Cockrell had a 3 yard touchdown run in the fourth quarter.  Earnest Woodward and Daylen Morris each had 2 carries for 5 and 4 yards.     Woodward had a fumble return of 45 yards in the first quarter to setup a touchdown.
Daylen Morris led the Patriot defense with 7 primary tackles and 6 assisted tackles and a pass rejection.    Woodward had 10 primary tackles, 2 pass rejections and a fumble recovery.
Rycharde Coates and Jacob Baynham recorded 8 and 7 tackles.   Others that had at least one tackle in the game were Ed Williams,  Holton Manly, Dylan Seaman, Ben Dodson,  Malik Lee, Kerry Cockrell, Zach Sherrill and Austin Rivers.
The Patriots bid farewell to  the two seniors Seaman and Cockrell and will have returning in 2013 a seasoned group of young men with the set goal of bringing home a third straight title.
Coach Mark Rodgers could be looking at a long successful run of winning seasons at Wardlaw.  He sure will not have a problem getting the boys to come out for football.   The winning tradition at the school makes the young men eager to strive for more success.