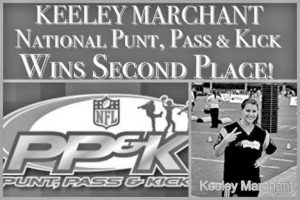 Keeley Marchant, an 8th grader at Merriwether Middle School, finished second in the National Punt, Pass & Kick competition this past weekend in Charlotte, North Carolina at the Atlanta-Carolina pro football game.
The Punt, Pass & Kick competition was established in 1961 and is the oldest NFL youth football program. Competitors are required to punt, pass and then kick a regulation football. The distance in each category is then measured in terms of length and accuracy. The one who scores the best is the winner. At one time, event highlights were shown by CBS Sports as part of its NFL coverage. The contest received renewed attention in 1992 when Kendra Wecker, a 10-year-old girl from Kansas, made the finals in her age group and competed on an equal basis with male competitors. Wecker would later become an All-American in basketball at Kansas State University and plays in the Women's National Basketball Association. PP&K now offers separate competition for boys and girls in four different age groups.
Winners in each age group are determined by the total distance of their punts, passes, and kicks, as the name implies. The national finals competition involves one contestant from each age group sponsored by each of the NFL's 32 teams. Those contestants have already won local and sectional qualifiers to advance to that point.
The finalists are announced during a commercial break during the NFL playoffs each year.
Keeley won the initial qualifier by a huge margin earlier this year in North Augusta. This allowed her to then compete in the regional qualifier in Rock Hill in October. The top four from this event advanced to the National Team Competition which was held this past weekend at the pro football game between Atlanta and Carolina. To come in second place at this level of competition is a tremendous accomplishment. It is obvious that Keeley has put in a tremendous amount of practice to improve on her distance and accuracy.
Keeley has been a sports competitor most of her life. She has played travel soccer for the past 7 years and won a state championship last year with her team for South Carolina.  She has also played football for Merriwether Middle School the past two years and scored 25 points during that span by kicking extra points and field goals. Keeley currently hold the record in our district for the longest field goal in our middle schools by kicking a field goal of 36 yards.
Keeley is the daughter of Amy and Wayne Marchant. Both Mr. and Mrs. Marchant are employees of the Edgefield County School District.