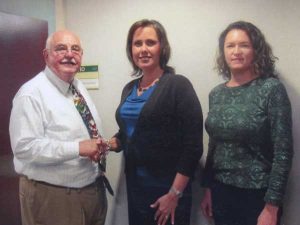 Columbia, SC – The Commission on Accreditation of Rehabilitation Facilities (CARF) has accredited the Backman Center for Mental Health Services (Beckman), for a period of three years, in the following areas: Mental health Case Management/Services Coordination for Adults; Mental Health Case Management/Services coordination for Children and Adolescents; Mental Health Outpatient treatment for Adults; and Mental health Outpatient Treatment for Children and Adolescents.
In addition to its accreditation areas, the Center received no recommendations from surveyors. According to CARF, this means, "they did not identify any areas of nonconformance to the standards. This is an extraordinary accomplishment, as only 3% of CARF surveys result in no recommendations."
Beckman Center is located in Greenwood and is the umbrella organization over the Edgefield Mental Health Clinic on Simkins St., Edgefield. Ms. Gambrell was a counselor there beginning in 1997 following her graduation from Augusta State University, Masters Degree in Psychology. Later she became the director of the Edgefield clinic, and was hired from there to be the director over all the clinics in the 7-county organization called Beckman, in Greenwood.