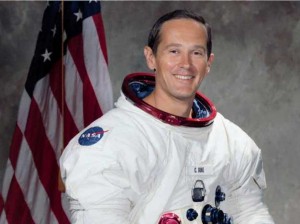 Charles Moss Duke Jr. attended elementary school in Johnston, S.C., where he lived with his mother, Willie Waters Duke, while his father, Charles Duke Sr., was in World War II. He had a twin brother, Billy, named for his mother, who became a doctor and remained in Lancaster where the family lived after they were reunited following the war. Billy died in the summer of 2012. Charlie Duke now lives in Texas. Ed. Note
CLEMSON — Clemson University awarded 1,200 degrees Thursday, including the nation's first Ph.D. in automotive engineering earned by a woman and an honorary degree to a former astronaut.
Ala Qattawi made history when she walked across the stage to receive her doctorate in automotive engineering and congratulations from President James F. Barker.
Retired Gen. Charles Duke Jr., a former NASA astronaut who was the 10th man to walk on the moon, received an honorary Doctor of Science degree.
Speaking to the graduates, he quoted from the Dr. Seuss story "On Beyond Zebra!" in which Conrad Cornelius O'Donnell O'Dell is teaching a young friend the alphabet. When he reaches the letter Z, he draws a new letter "he had never dreamed of before," according to the story.
"Most of my life I've lived beyond Z," said Duke, who went to the Naval Academy, then the Air Force before entering the Apollo program.
"No matter what career you've chosen, you need to look beyond Z; to seek new knowledge, stay current with technologies, set long-term goals to persevere," Duke said.
"It is up to each of us to build a better world," he said. "You'll be amazed at what you're going to do."
Barker, in his remarks to the graduates, told them the world needs their enthusiasm, creativity and intellectual courage.
He also told them: "Remember that information is not the same stuff as knowledge, and knowledge is not the same stuff as wisdom. Always seek wisdom."
At the ceremony, Windsor Sherill, professor of public health sciences, received the Class of '39 Award for Excellence. It is presented to a faculty member whose contributions are judged by their peers to represent the highest achievement and contribution to the university and students.
Barker also awarded posthumous bachelor's degrees to two students who died this fall in car accidents: Kohleigh Michelle Hunt of Seneca, a senior graphic communications major who died Oct. 21; and Tyler Sands of Exton, Pa., a senior in financial management who died Oct. 16.
;