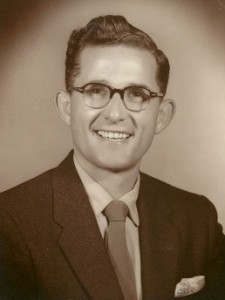 TRENTON, S.C. – Earl Boyd Randall, age 91, died on Tuesday, December 4, 2012 in his Trenton, SC home from complications with his ongoing battle with cancer.  The memorial service was held at 2 p.m. on Friday, December 7, 2012 at Edgefield Mercantile Funeral Home in Edgefield, SC.  He is survived by his wife of 56 years of marriage, Lovetta C. Randall, daughter, Rosalyn Randall Higgins, son-in-law, Marshall Higgins and grandson, Zachary Higgins.  They received other relatives and friends of the family offering condolences after the memorial service.   Chaplain Preston Creech officiated the memorial service.   Mr. Randall had been receiving medical care through Ark Hospice of Easley, SC.  Chaplain Creech is on the Ark Hospice staff and made frequent visits to Mr. Randall in his home.
Born in Edgefield County, Mr. Randall was the son of the late James Boyd Randall and Mina Jackson Randall.  He was one of ten children born to James and Mina Randall, all of whom are now deceased.  In birth order they were:  James Homer Randall, Nellie Bly Randall Yonce ("Nell"), Alvy Jackson Randall ("Blackie"), Darling Eugene Randall ("Dollie"), Dorothy Ruth Randall (died in infancy), Mina Louise Randall Ledbetter, Evelyn Elizabeth Randall Ward, Earl Boyd Randall ("Randy"), Carl Edward Randall and Robert Ray Randall.
A high school graduate of Trenton High School, class of 1938, Mr. Randall was a WWII veteran of the U.S. Army, serving as a medic.   Known to many as "Randy",  Mr.  Randall was a consummate business owner and entrepreneur known for his ability to sell almost anything that could be sold.   His business ventures included photography, farming, horse boarding, convenience and souvenir stores (Randy's Mart) and (after retiring as a store owner/operator) website design (Key Designs).   Photography, Ham radio operation, web designing and blogging were among his ongoing hobbies and interests even in his last few years of life.
The family wishes to extend their sincere gratitude to Ark Hospice for their skill and compassionate end of life care provided to Mr. Randall and his immediate family.  The medical care managers, Dr. Massey and Dr. Rainsford, the nurse (Cindy Brian), nursing assistant (Katrina Devlin), social worker (Michael Stewart) and chaplain (Preston Creech) on Mr. Randall's Ark Hospice team were invaluable during his battle with cancer.  Lastly, the Randalls could not have gotten through the difficult days without the compassionate assistance of his personal care aid, Belinda Simpkins.  Memorials may be made to a charitable organization of one's choice.  Condolences can also be expressed on the Edgefield Mercantile  Funeral Home website until January:  www.edgefieldmercantilefh.com.
When his store burned in the 1970s, he rebuilt.  When the store was robbed and he was shot at gunpoint in the early 1980s, he recovered and re-opened several more years before retiring in 1986.  Upon retiring, he embarked on teaching himself to learn web design.  Just after turning 90 he was still working with a few internet clients.  He was not without imperfections (like the rest of humanity),  but Earl Randall's  invaluable legacy to all who knew and loved him is to never give up, never give up, NEVER give up….