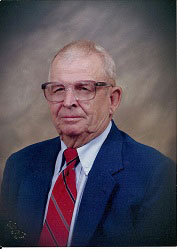 EDGEFIELD, S.C. – Mr. George Francis Miller, 85, of Sweetwater Rd., husband of Edna Hammond Miller, died Sunday December 16, 2012 at his residence.
Funeral Services will be held Wednesday December 19, 2012 at 11 A.M. at Sweetwater Baptist Church with burial in the church cemetery.
Mr. Miller was a native of Edgefield, S.C. and was an Army Veteran of World War II. He was a retired Diary Farmer and was retired from the S.C. State Forestry Commission. He was a member of Sweetwater Baptist Church where he was a former Deacon and Sunday School Teacher.
Survivors include his wife; 1 Daughter- Barbara (David) Zang; 2 Grandchildren- David (Michelle) Bunch, Stephen Zang; 3 Great-Grandchildren- 1 Brother- John Raymond (Ellie) Miller; a Son-in-law- Paul Bunch. He was predeceased by a Daughter Brenda Bunch and a Granddaughter Teresa Bunch.
Memorials may be made to the Sweetwater Building Fund 198 Sweetwater Rd. North Augusta, S.C. 29841.
The family is at the home of his daughter on Rapids Court, in North Augusta and will receive friends from 5 to 7 P.M. Tuesday at Edgefield Mercantile Funeral Home.
Please sign the online register book at www.edgefieldmercantilefh.com