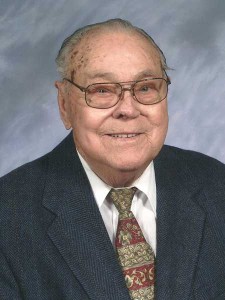 TRENTON, S.C. – Mr. J. Fritz Huiet, Sr. 87, of West Wise St., husband of the late Jean Reel Huiet, died Tuesday, December 4, 2012 at Edgefield County Hospital.
Funeral Services will be held Thursday, December 6, 2012 at 2 P.M. at the Edgefield United Methodist Church with burial in Ebenezer Cemetery in Trenton.
Mr. Huiet was native of Trenton, S.C. and was a member of Edgefield United Methodist Church. He was retired Postmaster for the Trenton Post Office with 27 years Service. He was a U.S. Navy Veteran of WW II having served in the D-Day Invasion. He served forty four years with the Trenton Volunteer Fire Dept.  He was also a mason for 50 years. Mr. Huiet played semi-professional baseball for eight years.
Survivors include 2 sons- Fred (Harriet) Huiet, Wally (Susan) Huiet; 3 Daughters- Sandra (Tommy) Grandy, Connie (Jim) Harling, Beverly (Bill) Burch; 2 Sisters- Betty Sexton, Helen Carpenter; 1 Brother- Dick Huiet; 10 Grandchildren- Frederick Huiet III, Candler Tindall, Sheri Rupp, Kelli Rhodes, Jonathan Harling, Fran Clary, Leslie Schumpert, Blakely & Blane Burch, Fallon Baldonado. 14 Great-Grandchildren. Mr. Huiet was predeceased by 2 Brothers- Buck Huiet, Jr., and Gene Huiet, Sr.
Memorials may be made to Edgefield United Methodist Church, P.O. Box 25 Edgefield, S.C. 29824.
The family would like to thank Dr. George Rainsford , the Edgefield Medical Clinic, and the entire staff of Edgefield County Hospital for their special loving care.
The family is at his home and will receive friends from 5 to 7 P.M. Wednesday at the funeral home.
Please sign the online register book at www.edgefieldmercantilefh.com