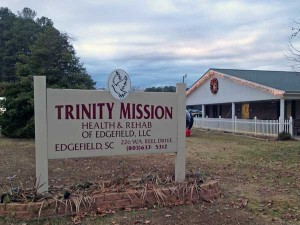 Trinity Mission Health & Rehab of Edgefield is always seeking ways to better serve the community. Their mission statement is "Serving  the community one patient at a time."
They are now featuring specialized short-term rehabilitation from post surgical recovery to skilled nursing treatment. Trinity understands that families want their love ones close to home and that families play a major role in the recovery process. No longer do you have to go out of town for your inpatient physical, occupational and speech therapy.
Stop by their facility at 226 W. A. Reel Drive in Edgefield for a tour and any one of their friendly staff members will be glad to show you around. For more information check  out their website at www.covenantdove.com or you can contact Ron Arant, Director of Admissions, at 803-637-5312 ext. 123007.