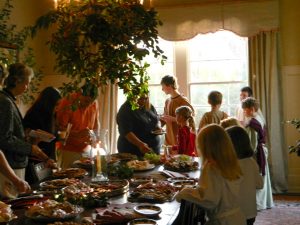 The Sunday Tour of Churches in celebration of the Christmas story was the largest attended, so far, according to Tricia Glenn, who was in charge.  The Edgefield County Historical Society sponsors this event each year. The churches – St. Mary's Catholic, Edgefield First Baptist, Trinity Episcopal and Edgefield United Methodist – through players from each church, act out the Christmas story in four parts.  The journey begins at the Catholic church and attendees walk with members of the growing crèche scene from church to church, ending at the Methodist.  That is where the infant Jesus appears in a manger along with all players involved.
Special music at each stop along with scripture reading helped to develop the story and added to the meaning.
Following the program, those in the crèche scene led the attendees to Magnolia Dale, across the street from the Methodist church, for an unforgettable sight – the house museum splendidly decorated in Christmas greens. Cedars, hollies, red berries and bows graced every mantel, chandelier, portrait and period antique of the house, adding an immediate effect of natural beauty. Although the refreshments provided (includjng a child-friendly ice cream eggnog) were special, it was the greens that will long be remembered.
This inspirational event is one of many weekend happenings in December that help to build the spirit of Christmas within one's own community.
This coming weekend, along with the jolly play at the Discovery Center (637-3833), will be chances for shopping and special church services (some live crèches) and Christmas events as seen in Here and There on page 3.