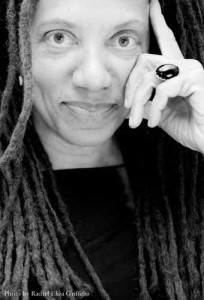 Poet Nikky Finney has a connection to Edgefield through a sister-in-law, Elaine Gilliam Finney, who grew up in Edgefield and graduated from STHS. Ed. Note
Poet, National Book Award winner and South Carolinian Nikky Finney will join the faculty at the University of South Carolina this fall.
Finney, who has taught at the University of Kentucky since 1991, will be the John H. Bennett, Jr. Chair of Southern Literature and Creative Writing in the College of Arts and Sciences, with a joint appointment in the Department of English and the African-American Studies Program.
A native of Columbia and winner of the 2011 National Book Award for Poetry for her collection "Head Off and Split," Finney said she is drawn to visionary institutions, places and people and looks forward to teaching students at USC.
"I'm not 'on the ground' in Columbia just yet, but from my intimate vantage point, being a daughter of South Carolina, the flagship university named after the state seems to be charging forward into the bright lights of the future, positioning an impressive array of administrators and hiring amazing faculty and staff," Finney said.
"I see a new human geography taking shape all across the state; smart dedicated thinkers and doers reshaping the land of my birth. The University of South Carolina has offered me the chance to come home and lend my shoulder to this great intellectual grindstone. I have accepted, and the honor to see what can be made and nurtured for the future of our state and country is all mine."
Dean Mary Anne Fitzpatricksaid Finney will be a dynamic addition to the Carolina community.
"We are honored that professor Finney will be joining our faculty. In addition to her own extraordinary work as a poet, she is dedicated to developing human capital and bringing the love of language and poetry to the children of our state," Fitzpatrick said.
Finney was a writer, editor and photographer for the National Black Woman's Project in Atlanta from 1984 to 1986 before turning her creative energy toward poetry. Since 1985 she has published four collections of poetry, including "On Wings Made of Gauze," "Rice," "The World is Round" and "Head Off & Split." She also has published "Heartwood," a collection of short stories and edited "The Ringing Ear," a poetry anthology. "World of Round" won the 2004 Benjamin Franklin Award for Poetry and "Rice" won a PEN America Open Book Award in 1995.
"Nikky has for years been a highly regarded poet with a reputation that has grown stronger with each of major publications. Her National Book Award for Poetry in 2011 is her most prestigious accomplishment, but also is many ways a very predictable achievement given the intellectual insight and emotional power of her writing and the consequent steady upward arc of her reputation. Her considerable body of creative work is widely recognized as among the 'very best poetry' being in America today," said William Rivers, chair of the USC English department.
Valinda Littlefield, director of African American Studies, said Finney, the daughter of civil rights attorney and retired S.C. Chief Justice Ernest Finney and teacher Frances Davenport Finney, will be a vibrant addition to the program.
"Nikky grew up in South Carolina during the civil rights movement. Her experiences growing up provide a reservoir of rich resources and she noted that her 'responsibility as a poet is not to avoid.' Finney uses language to paint vivid pictures of the varied experiences of life, especially that of African Americans. Her poetry adds flesh to the bones of history and the struggles of one group can be universally understood and appreciated," Littlefield said.
Finney earned her bachelor's degree from Talladega College in 1979 before studying African- American literature at Atlanta University from 1979 – 1981. During her 22-year tenure at the University of Kentucky she moved up through the academic ranks, being named the Guy Davenport Endowed Professor of English in 2012.  In addition to teaching at Kentucky, she was a visiting professor at Smith College in Northampton, Mass., in 2007–2009 and at Berea College in 1999-2000.
Finney's appointment is effective Aug. 16.