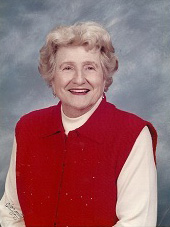 EDGEFIELD, S.C. – Mrs. Kathleen (Kitty) Rawls Timmerman Knowles, 89, of Penn St., wife of the late Robert G. Timmerman, Sr. and Lt. Col. Carl Knowles, passed away Sunday January 20, 2013 at the Edgefield County Hospital.
Funeral Services will be held Tuesday January 22, 2013 at 11 A.M. at Edgefield United Methodist Church with burial in Eastview Cemetery.
Mrs. Knowles was a lifelong resident of Edgefield County and was the daughter of the late William Alonzo and Eula Berry Rawls. She was a member of the Edgefield United Methodist Church. She was retired from the Veterans Administration Hospital in Augusta, Ga. She was a member of the Military Officers Assoc. of America, American Legion Women's Auxiliary, and Daughters of the American Revolution, United daughters of the Confederacy, Edgefield County Historical Society, Edgefield District Genealogical Society, Pine Ridge Country Club, the Edgefield County Hospital Auxiliary, and the Village Gardeners.
Survivors include 2 Sons- Robert G. (Carolyn) Timmerman, Jr., J. Rawl (Julie) Timmerman; 1 Sister- Willie Mae (Jack) Matheny; 4 Grandchildren- Bobby (Ashley) Timmerman, Elisa (Jonathan) Holley, Brent (Page) Timmerman, Carter Timmerman; 3 Great-Grandchildren- Kyler Timmerman, Caroline Jernigan, and Jack Holley. A very special and treasured friend, Janie Key. She was predeceased by 2 sisters- Grace Rawls Mobley and Frances Huiet.
The family would like to thank Dr. Don Loebl, Jr., Dr. George Rainsford, Dr. Eric Floyd, Hollie Weeks and the staff of the Edgefield County Hospital. Kitty enjoyed Golf and College Football, and had a full and active life.
Pallbearers will be William Matheny, John Feltham, III, Brent Timmerman, Carter Timmerman, Bobby Timmerman, Kyler Timmerman, Jonathan Holley.
Honorary Pallbearers will be members of her Bridge Club.
The family is at the home and will receive friends Monday from 5 to 7 P.M. at the Funeral Home.
Please sign the online register book at www.edgefieldmercantilefh.com