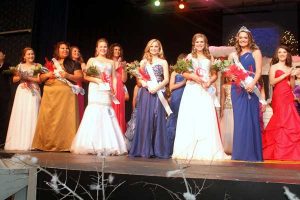 Megan Sherman, a 17 year-old-junior at Strom Thurmond High School was chosen Miss Statesman 2013 at the Miss Statesman pageant held January 12, 2013, at Strom Thurmond High School.
After the announcement, Megan was crowned Miss Statesman by Mrs. Jett, Strom Thurmond HS Principal and LeAnn Gibson, 2012 Mrs. Statesman.   "I'm so shocked.  This is a huge honor.  I just can't believe it," Megan said to family and friends gathered to congratulate her. "We are so proud of her and everything she does," said her parents, Scott and Donna Sherman.
Megan was one of 25 girls vying for the Miss Statesman title.  During the pageant, which was themed "A Mid-Winter's Dream," the contestants participated in a formal wear presentation, a casual wear presentation and a general question session.
The pageant was sponsored by the Strom Thurmond High School Statesman Staff with advisors, Michelle Smith and Libba Ingram.  Mrs. Patricia Woods was the pageant coordinator,  Mr. Steven Mckinney was the host, and Margie Cassels was the Auditor.   After a warm welcome by Miller Thompson, Student Body President, the pageant was MC'd by Patrick Williams and Lisa Fountain, both performers at the Aiken Community Playhouse, in Aiken, South Carolina.
Congratulations to all of the winners in the 2013 Miss Statesman Pageant!