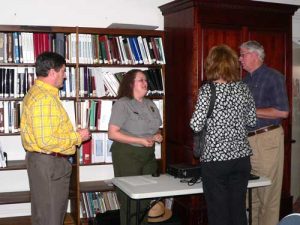 In her presentation at the bi-monthly Old Edgefield District Genealogical Society (OEDGS) meeting on the square in Edgefield, on Sunday, Elizabeth Laney told of the Hammond papers and how to access them.
The Hammond papers refers to a collection of documents relating to James Henry Hammond (SC Governor, US Congressman, US Senator), his descendants, related families, African-American families enslaved on or later employed at Hammond properties.  Although there are several repositories for this collection including the Library of Congress and Redcliffe Plantation State Historic Site, the main repository for this vast collection is at the South Caroliniana Library at the University of South Carolina.
Ms. Laney, Park Interpreter for Redcliffe Plantation, told how to access Hammond Paper.  She noted that three of the most significant photograph albums of John Shaw Billings contain Hammond family pictures from the 1880s through the 1950s.
Some papers may be available digitally and can be emailed upon request.  Redcliffe also has a growing collection of digital copies of the Hammond papers available at the South Caroliniana Library, particularly those that deal with Africa-American genealogy.  Researchers may call Redcilffe to see what kind of digital resources and genealogical research area available (803-827-1473)
Laney briefed the audience on Sunday about the Ardis family who worked as enslaved laborers at Silver Bluff Plantation from the mid-1840s through 1865. This was for many a most interesting part of the program.