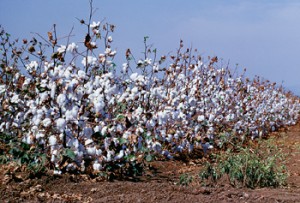 China Remains the Biggest Variable – 
ORANGEBURG, S.C. — If the cure for high prices is high prices, it certainly worked on cotton. South Carolina's cotton growers have seen prices drop from $2 per pound about three years ago to around 80 cents per pound today.
Meanwhile, worldwide cotton production has jumped significantly during the last two years, setting the stage for an uncertain market in the years to come.
Gary Adams, vice president for economics and policy analysis for the National Cotton Council of America, gave a 2013 industry outlook at the S.C. Cotton Growers annual meeting Tuesday in Orangeburg.
Adams said worldwide production totaled 118.8 million bales in the 2012-2013 growing season. Meanwhile, the U.S. Department of Agriculture estimates worldwide demand will be 106.1 million bales.
The U.S. Department of Agriculture projects 81.7 million bales are held in stock, and that could prove to be a significant number, Adams said. In 2009-2010, that number was less than 47 million bales.
"We've not seen numbers like this for many years," he said.
As with many industries, uncertainty in the world cotton market can be summed up in one word: China.
About half the world's cotton stock is held in China, with the rest scattered around the globe. China is the largest consumer and importer of cotton and the driving force behind the stockpiling, Adams said.
The big question is: When will China decide it has enough cotton in reserve?
"That's the big unknown," Adams said.
The answer could be significant to U.S. growers. China is the America's biggest cotton customer, Adams said, but that may change depending on how much cotton China continues to import.
U.S. growers produced 17 million bales in 2012-2013 with prices holding steady in the 80-cents-per-pound range. U.S. growers exported 12.2 million of those bales.
"With exports the biggest unknown, the market seems to be waiting for a signal from China on what it plans to do," Adams said.
Clemson University Extension and the S.C. Cotton Board hosted the annual growers meeting. Presentations included bale contamination, weed-control options and new cotton varieties, among other topics.
The meeting included a report from the Southern Cotton Growers Association, the Southeastern Boll Weevil Eradication Foundation and an insect management update by Jeremy Greene, research entomologist at the Clemson University Edisto Research and Education Center in Blackville.
Mike Jones, state cotton specialist at the Clemson University Pee Dee Research and Education Center in Florence, said the state's growers produced 918 pounds of lint per acre — a state record. An average state crop is about 750 pounds per acre.
About 299,000 acres were planted with cotton across South Carolina during the last growing season
The weather was a primary factor for the record yield, Jones said. More-than-usual rainfall and generally more moderate temperatures during the warmest months, particularly in June and August, were primary factors, he said.
Jones also praised work by scientists at Clemson's agriculture research centers, such as those in Blackville, Columbia and Florence. Research in crop management, variety evaluation, insect management and weed control all contributed to the record year.
"Our growers were pretty happy this year," Jones said.