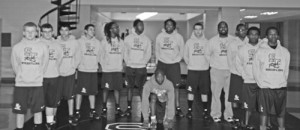 Fifth Year Athletic Program Has a Solid Foundation – 
Under the guidance of Wrestling Coach Leroy Collier the Strom Thurmond Wrestling Team has evolved into a mature athletic organization.  Rebel Wrestling has proven very competitive in its fifth season of existence. At Region matches last Friday the team qualified 8 wrestlers to advance to the Lower State in North Myrtle Beach February15th and 16th.
So, what does it take to build a new athletic program from the ground up?  Coach Collier believes it requires a good philosophical foundation and in partnership with previous coaches and assistant coaches he has established the written formula for success.  If one wishes to become a member of the Rebel Wrestling Team the following document provides the candidate with a guide to achieve that goal.  According to the "Strom Thurmond Wrestling Program Terms and Conditions" Strom Thurmond Rebel Wrestling teaches valuable lessons on and off the mat. We help each gentlemen use their abilities in achieving their full human and athletic potential. It is our duty to help these gentlemen be successful both in the classroom and on the mat.  The Mission of Strom Thurmond Rebel Wrestling, guided by the coaches, will help each gentlemen become forever strong in the classroom, on the mat, and in life with a vision of helping each individual become champions on the mat and in life.
The guide further states that you will realize your potential through the sport of wrestling. It is a difficult sport, but one of the most rewarding sports. The sport of wrestling is not just a fight with the man in front of you, but also an internal fight to challenge yourself to be better than anyone else, on and off the mat. This challenge is a never-ending drive to be the best that you can possibly be. You pick this drive up from the sport, and it will continue with you for the rest of your life. A person does not have to have wrestled before to be great at the sport, because wrestling is about more than experience and talent; it is the inner animal contained somewhere inside your body that only wrestling can bring out. This animal will give you the power to achieve anything possible. The only thing you need to be able to achieve the possible is the right mindset, and wrestling will give you this mindset. We treat this team as a family. We go through tough situations in the sport of wrestling. Only another wrestler understands these feelings. We will make sure that we fight these situations as a team!
Players with weight class from the 2012-2013 Rebel team qualifying for lower state matches in February are:  Jose Alvarez 132, Bryce Boeke 138, Greg Alvarez 145, Demetrius Potts 152, Quentin Gordon 160, Joseph Poole 170, Montrez Coleman 182 and Jon'te Nathaniel 220.
And Strom Thurmond Wrestling is a family thing: