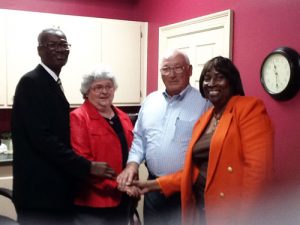 Three years ago Mrs. Essie Nicholson, Director of WIU (Women in Unity) Learning and Development After School Center, began to pray asking the Lord for a new facility in which to better serve the students and the Edgefield community.
Recently the Lord answered her prayers. The center received a grant from the United States Department of Agriculture Rural Housing Service for the amount of $97,000.00 for the purchasing of a new facility.
The Executive Board of Directors which consisted of Rodney Ashcraft, Ricky Brunson, Lashanda Bryant, Wyatte Brown, Daphne Cook, Madelrine Marshall, and Eddie J. Woods worked very hard making sure everything was in order to attain this grant.
I'm glad to be a part of an Organization that is doing something positive for the Edgefield Community, especially having an impact on these young children. With the new facility WIU will be able to increase the number of students from 16 to 32.
WIU started in 2002 by Essie Nicholson, for the past four years the center has operated on Glover Street in a small resident house with two small classrooms and one bathroom. Not only will the new center be able to better serve the students in the After School Program with two large rooms, two bathrooms, a computer room, a large commercial kitchen, dining room, and office space. This building will also be used for other small community events like workshops, conferences, and groups that would empower the Edgefield Community Citizens.
We want the public to know that this grant money is not free money. We have to pay it back. As a matter of fact the center has already made the first monthly payment. Also, included in the grant was $55,000.00 for operation funds to take care of all repairs and work materials. However, we don't have to pay that back.  Thanks to God because we are operating on a tight budget.
There are no paid staff at the center, not even Mrs. Essie Nicholson the Founder and Director. All staff from the office, kitchen assistances, tutors, and classroom aids are all volunteers. The majority of the center financial support comes from several churches, organizations, individuals and fundraisers throughout the year. Without donations and volunteer supporters we would be unable to help the children.
WIU works with the South Carolina Department of Social Services, the Edgefield County One-Stop Workforce Center, the Strom Thurmond High School Vocational Release Program, and the Aiken County Foster Grandparent Program to supplement the center.
We are inviting all the citizens of Edgefield County to stop by and tour the WIU new facility on Saturday, January 26, 2013 from 2:00 to 5:00 and Sunday, January 27, 2013 from 3:00 to 5:00. The new facility is located on 3 Pecan Park in Edgefield, right behind Farm Bureau.
For anyone who would like to enroll their child, volunteer, or make a donation you may call 803.637.2010 or you can stop by. Contributed by Eddie Woods, Bd. Pres.