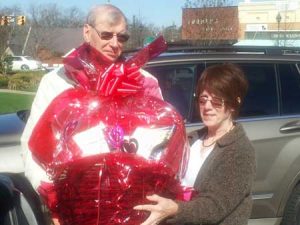 The winner of the Downtown Edgefield  Wine & Chocolate Stroll Thursday evening is Darlene Abrahams of North Augusta, SC.  Darlene said "ever since we moved to North Augusta we try to support South Carolina merchants, especially in Edgefield." She said she didn't mind the rainy cold weather but stopped in the NWTF Turkey Shoppe to purchase a pair of purple rain boots that made the journey more comfortable and warm!
Darlene is a consignor at the Edgefield Trading Company, patron of Jane Bess Pottery, as well as many other shops and restaurants in town.  She collects pottery and was thrilled with the little brown jug donated by Old Edgefield Pottery.  She and her husband look forward to using all the great gift certificates to our local shops and eateries and can't wait for the next play, On Golden Pond, by the Edgefield County Theater Company.
Thank you Darlene & thanks to all of the merchants, artists and restaurants of Edgefield for their support in this event!