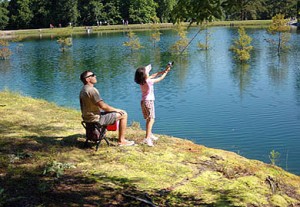 COLUMBIA, S.C. – The S.C. Department of Natural Resources (DNR) will host a series of free outdoor family events around the state. Youth ages 6-15 are encouraged to sign up for a fishing rodeo with specific times for most events to be determined.
Youth ages 6-15 must be accompanied by and adult and no adult fishing will be allowed. Pre-registration is required and limited spaces are available. Register online or call (803) 737-8483. Sign in occurs 15-30 minutes prior to the session start time. Bring your own fishing equipment and tackle. Bait may be provided at some of the rodeos. No minnows or artificial lures allowed.
Anglers can catch and keep, but an event specific creel limit will be in place. Call (803) 737-8483 for additional information.
Check the following dates and locations for an event near you:
* March 23, 2013 – 8 a.m. to 5 p.m. – Sewee Visitors Center (Awendaw, SC)
* May 4, 2013 – 9 a.m. to 12 noon – Star Fort Pond (Greenwood County)
* May 4, 2013 – 8 a.m. to 1 p.m. – Sunrise Lake (Lancaster County)
* May 11, 2013 – TBD – Calhoun Falls Fishing Rodeo at the Calhoun Falls Bank Fishing Area
* May 11, 2013 – 8 a.m. to 1 p.m. – Draper WMA (York County)
* May 11, 2013 – TBD – Jimmy Shay Memorial Fishing Rodeo at Lick Fork Lake (Edgefield County)
* May 18, 2013 – 8 a.m. to 12 noon – Barnwell County
* May 18, 2013 – TBD – Clearwater Cove (Kershaw County)
* May 18, 2013 – 8 a.m. to 1 p.m. – Darlington County (Rancho Road, Hartsville, SC)
* May 18, 2013 – 8 a.m. to 12 noon – Foster Park Lake (Union County)
* May 18, 2013 – 9 a.m. to 12 noon – Piedmont Tree Nursery (Tamassee, SC)
* June 1, 2013 – TBD – Cohen Campbell Fish Hatchery (West Columbia, SC)
* June 1, 2013 – TBD – Chattooga River at Burrells Ford