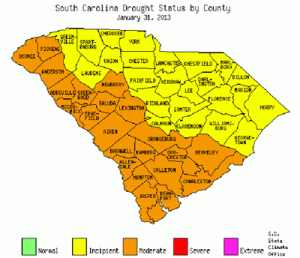 COLUMBIA – The S.C. Drought Response Committee, meeting via conference call on Jan. 31, downgraded the drought status one level for 26 counties.
Twelve counties were downgraded to moderate including: Oconee, Pickens, Anderson, Abbeville, McCormick, Greenwood, Edgefield, Saluda, Newberry, Lexington, Aiken and Barnwell. Fourteen counties were downgraded to incipient including: Greenville, Spartanburg, Cherokee, York, Laurens, Union, Chester, Fairfield, Richland, Sumter, Calhoun, Clarendon, Williamsburg and Georgetown. Eight counties were maintained at moderate drought including Orangeburg, Bamberg, Allendale, Dorchester, Berkeley, Hampton, Colleton and Jasper. Ten counties in the Pee Dee were maintained at incipient drought. Only two counties were upgraded which include Beaufort and Charleston moving to moderate.
According to S.C. State Climatologist Hope Mizzell, the below-normal rainfall pattern has continued for over half of the state from the midlands to the coast. Charleston Airport recorded its driest January on record with only 0.35 inches (the previous record was 0.63 in 1950). Hilton Head Island 4.0N has only received 2.78 inches since Dec. 1. Other Community Rain, Hail and Snow Network (CoCoRaHS) rainfall totals are provided in the table below.
Much above-normal rainfall occurred across the region that needed it the most, the Upper Savannah River Basin. Many CoCoRaHS rainfall observation stations in the northwest corner of the state reported more than 14 inches since Dec. 1. The last time these counties received this much winter rainfall was 2009-2010. Due to the abundant rainfall in Oconee and Pickens over the last 60 days, the Committee discussed downgrading the drought two levels for those counties, but the Committee decided to be cautious and downgrade only one level to moderate.
"The committee electing to downgrade only one level was driven by an effort to balance an overly positive five to six weeks of rainfall against a longer-term trend of much below normal rainfall," said Scott Willett, Anderson Regional Joint Water System executive director. "All the forecasts that we reviewed suggests that at best the rainfall pattern will be normal over the next three months with the potential for a return to a more below normal pattern."
Scott Harder, S.C. Department of Natural Resources hydrologist, reported that above-normal rainfall amounts over the past month and a half have greatly improved streamflow conditions across the upstate and especially in the upper Savannah Basin. As a result, the increased runoff has caused levels in Lake Hartwell to increase by nearly 6 feet and Lake Thurmond by about 3 feet since mid-December.
Darryl Jones with the S.C. Forestry Commission reported, "Based on the long-term deficit of rainfall, we are concerned about the upcoming wildfire season. The peak wildlife season in South Carolina generally runs from mid-February to April. We may be getting an early start since January wildfires exceeded the five-year averages."
Drought Response Committee Chairman Ken Rentiers said the Committee is expected to reconvene sometime during mid March 2013 to reexamine drought conditions around the state.
Table: S.C. Community Rain, Hail and Snow Network (CoCoRaHS): Precipitation totals (inches), December 1, 2012 – January 31, 2013
| Station Name | Total Precipation | | Station Name | Total Precipation |
| --- | --- | --- | --- | --- |
| Ridgeland 5.8 ESE | 3.29 | | Elgin 1.2 SW | 6.77 |
| Moncks Corner 3.0 SW | 3.89 | | Tega Cay 1.5 ESE | 7.95 |
| Georgetown 4.9 NNE | 4.28 | | Lancaster 2.0 NNW | 8.23 |
| Reevesville 1.0 SSE | 4.41 | | Chapin 1.4 S | 8.48 |
| Murrells Inlet 1.7 N | 4.41 | | Iva 5.2 SSW | 9.82 |
| Kingstree 9.5 NW | 4.69 | | Silverstreet 5.7 WNW | 9.87 |
| Aiken 1.6 NNW | 4.74 | | Starr 2.0 SSE | 9.94 |
| Lodge 3.4 SW | 4.78 | | Simpsonville 5.4 N | 9.98 |
| Gaston 5.3 E | 4.93 | | Greenwood 2.8 NNW | 10.00 |
| Conway 6.2 E | 5.07 | | Pomaria 5.0 NW | 10.22 |
| Cameron 2.0 SE | 5.14 | | McCormick 2.3 W | 10.27 |
| Sumter 1.3 SE | 5.18 | | Lyman 4.1 WNW | 10.76 |
| Manning 1.9 SSE | 5.42 | | Greer 3.0 NNE | 11.12 |
| Brunson 1.6 SSW | 5.46 | | Anderson 3.7 NW | 11.31 |
| McClellanville 0.2 ESE | 5.46 | | Gaffney 3.3 NNW | 11.35 |
| Denmark 2.8 WNW | 5.58 | | Spartanburg 5.1 WSW | 11.48 |
| Hartsville 5.4 WSW | 6.11 | | Berry's Pond 0.1 N | 11.51 |
| Trenton 6.3 SSW | 6.31 | | Taylors 2.8 W | 11.97 |
| Allendale 1.4 S | 6.32 | | Travelers Rest 8.9 N | 14.39 |
| Bennettsville 3.8 SE | 6.36 | | Pickens 6.9 W | 14.97 |
| Camden 4.2 ENE | 6.46 | | Seneca 3.7 NNW | 15.87 |
| Lexington 5.9 SW | 6.48 | | Cleveland 8.0 WSW | 18.81 |