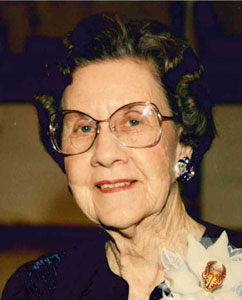 COLUMBIA, S.C. – Funeral service for Juanita Parrott Tompkins, 99, will be held at 10:00 a.m. Wednesday, February 13, 2013, at Dunbar Funeral Home, Dutch Fork Chapel, Irmo, with burial 3:00 p.m. Wednesday afternoon in Welsh Neck Baptist Church Cemetery, in Society Hill. The family will receive friends from 5 until 7:00 p.m. Tuesday, February 12, 2013, at the funeral home.
Mrs. Tompkins passed away Sunday, February 10, 2013.  Born in Darlington County, S.C. on September 8, 1913, she was a daughter of the late Jesse Kennedy and Margaret McCall Parrott.  She was a graduate of Winthrop College and taught for many years in the public schools of Edgefield County.
She was an avid reader of novels and history.  Her love of history made her trips to England and Scotland especially memorable.  She had been active in the Edgefield County Historical Society, the DAR and other service organizations.  She was a member of Riverland Hills Baptist Church in Irmo, S.C. and had been a member of the Edgefield First Baptist Church for many years.
She is survived by her daughters, Rose Miller (Allen) of Marietta, Ga., Polly Howe (Dick) of Bumpass, Va.; son, David (Pamelia) of Irmo, S.C.; grandsons, Robert Tompkins and Jesse Tompkins; sister, Elizabeth Smith of Columbia; nieces, Catherine McBroom, Jill Bretch, Sara Ellen Munnerlyn and Glover Berringer and nephew, Paul Smith.
In addition to her parents, she was predeceased by her twin sister, Beatrice Parrott Byrd
Memorials may be made to Edgefield County Historical Society, PO Box 174, Edgefield SC 29824.
Please sign the online guestbook at www.dunbarfunerals.com/