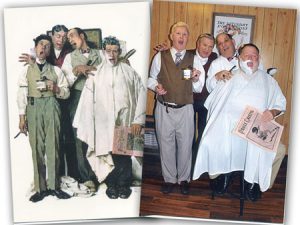 Norman Rockwell's Painting "Sharp Harmony" took on a new image a few days ago at Peachtree Styles, 311 Calhoun St., Johnston, S. C.  Tim Kerby and his daughter English, who care for the beauty and hair styles of both men and women, were helpful in letting The Classics, a barbershop quartet, recreate the Norman Rockwell picture in an effort to promote the Garden City's Annual Singing Valentines Event.
Each Valentine's Day, quartets from the chorus deliver 2 love songs with a special love note and a long stem rose to unsuspecting sweethearts all over the CSRA.  It has grown each year and is now the Chorus's largest fundraiser. The funds go to promote barbershop singing and to help charities the chorus has adopted.
This was reported to us by Clyde Jackson, III, of Trenton.  He says that quartet members who participate in the event tell how wonderfully surprised the recipients are. Some of their comments are below.
"I was so excited I cried!" "I will never forget that special feeling." "I have the most wonderful and thoughtful husband." "Nothing but the best for this gal."  "Wait till he sees my surprise for him."
And then there was one who responded with: "This is nice, but it doesn't get him out of the doghouse!"
For more information or to book a quartet to sing for you, call: 803-279-4198.