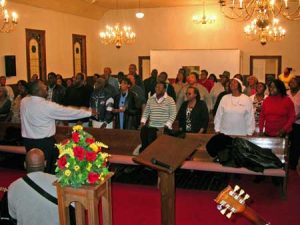 By Advertiser Staff –
Get ready for a grand celebration of Black History on Saturday evening at Strom Thurmond High School – "in the gymnasium" according to School Board Member James Bibbs, who is the coordinator of this event. And the reason for the gym is because a very large crowd is hoped for, and hopefully a large, "diverse crowd" to enjoy some spectacular music, says Bibbs.
At the practice session at Macedonia Baptist Church in Edgefield on Monday Night, the music was thunderously beautiful, as half the pews were filled with well known voices – male and female – singing Gospel Music.  They were being led by Leon DeBerry and accompanied by a number of musicians, both local and from Augusta.
As this reporter entered the sanctuary, the person in charge of the sound effects was leaving, with quite a smile on his face: "I don't know if they are going to need me," he said. It took listening to one rendition of a Gospel song to confirm that these voices were full of spirit and joy and would need no help in reaching all corners of that gymnasium on Saturday evening.
Along with the music will be speakers: Rep. Jim Clyburn, US Congress from the Columbia area, the keynote speaker; State Rep. Bill Clyburn; Tom McCain, former County Administrator (whose photo can be seen on the front page); Wayne O'Bryant, historian; and JET 6th grader and Spelling Bee winner Jaheim Ahmad Mathis.
There is a small charge for the event: $5.00 for the bleachers and $3.00 for floor seating.  However there will be scholarships available for anyone wishing to attend but does not have the fee.
The event begins at 5:00 on March 2, and promises to be as uplifting as those mass choir voices can make it. Bibbs notes that one should get there early for a good seat.
Of the Mass Choir, Bibbs stated: "This is not the end of the choir; this is just the beginning."