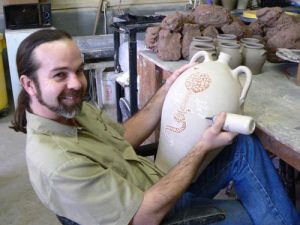 Find Pottery in a Game of Chance – 
Here begins a series, a long one we hope, of articles from Justin Guy, who is steering Old Edgefield Pottery and appointed by the Edgefield Historical Society as Director of Pottery Initiatives for the Society. He will be sharing information about the field of pottery as well as involving the community in a game that readers will find below.  The clues for the game will run weekly in The Advertiser.  Winners will be announced in the paper when the "stash" is found and as a new search begins.  How long will this game go on?  Only our potter knows.
By Justin Guy –
If by chance you are not one of the thirty or so potters who work in and around Edgefield you may think that your life has little to do with that overly abundant, and all too often overlooked material that we call "clay."  Made up of the second most common material on Earth, silica, it quite often is the earth right under your feet.  Aside from giving your shoes something to walk on, it presents itself in your life in ways you probably haven't guessed.
The mental picture of ceramic plates and tile floors will undoubtedly enter your head, but if you have used a cell phone, ridden in a car, put on shoes, taken medicine, used the bathroom, had a glass of wine or handled any item containing paper, plastic, or rubber, then you have used articles that require clay at some point in its creation.
If you are a lady who wears make-up then you are most likely smearing various colored clays across your skin during every attempt to make your skin appear smoother. Not surprisingly wiping this flesh of the earth across the skin on your face inevitably tends to clog pores and thus leads to more blemishes.
If you used any device that uses electricity then the insulators required to keep the device from bursting into flame are inevitably made from silica and thus clay.  Your cell phones and computers were probably inspired from the Silicon Valley, which is so named after that wonderful material.
So you don't have to be a potter in order to appreciate the wonderful ways that clay makes our lives better.  And we can be assured that we won't run out of the stuff for a very long time.  In fact if you live in what we call the "midlands" of South Carolina you can be fairly assured that you could dig in almost any spot and find clay within about 48 inches.  That is because 300 million years ago, Edgefield was beachfront property and the ocean in it's wisdom had a marvelous way of depositing huge sums of clay from here all the way north to Virginia and all the way west to Texas.
Hopefully now you have found at least a little more appreciation for that slippery substance that makes mud-bogging as well as the rest of our lives so enjoyable.  And in order to add a little more fun to life in Edgefield, a new tradition has started that we are calling "The Pottery Stash."  From time to time we will publish clues in this publication.  Anyone of any age is welcome to follow these clues to the best of their abilities and if they are the first to find the object hidden somewhere in Edgefield they can be assured that a modest but sincere piece of Edgefield Pottery will be waiting at the Advertiser office for them.  This first object is a small clay medallion about two inches across that reads "Pottery Stash, Jan. 2013" and the clue is the following: "Behind a former governor, who's story stands up straight. I feel welcome at Edgefield's center, and here for you I'll wait. "
Any place open to the public is game and, if inside, it may have to be accessed during the open hours of that building.  Clues may have more than one interpretation so best of luck to all who seek to find.