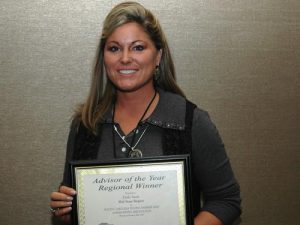 Darla Steele of Ridge Spring was recently named the South Carolina Mid-State Region Young Farmer Association Advisor of the Year by the South Carolina Young Farmer and Agribusiness Association.
The announcement of Mrs. Steele's selection for this prestigious award was made at the annual South Carolina Young Farmer and agribusiness Association conference held this past weekend in Hilton Head South Carolina. She received a certificate and cash award from the Massey-Ferguson Company who sponsors the recognition program in concert with the adult agricultural education organization.
Mrs. Steele has been the advisor of the Edgefield County Young Farmer Association since becoming an agricultural education program advisor at the Strom Thurmond Career Center in 2009.  
Submitted