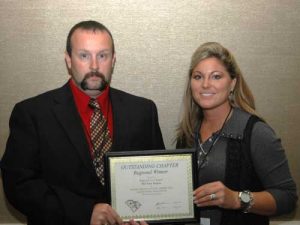 The Strom Thurmond FFA Association is no stranger in the FFA world. The student organization is known across South Carolina for their achievements both inside and outside of the classroom and this year has been no different.
The group has once again taken both top state and national honors for their work in the 2011-2012 school year.
In June the Strom Thurmond FFA Chapter was named a National FFA Gold Emblem Chapter in South Carolina out of over one hundred FFA chapters across the state. They also took home the prestigious South Carolina Governor's Citation for Student Development, naming them the top FFA chapter in the area of student development for South Carolina.
And just this month the Strom Thurmond FFA Association was selected by the National FFA Organization from a national pool of more than 7,400 National FFA Chapters as a 3-Star Gold Emblem Chapter, the highest ranking that an FFA chapter can receive on the national level. Strom Thurmond was selected as one of only three hundred and eleven chapters nationwide to receive this honor placing them in the top 4% of FFA chapters across the nation.
Submitted