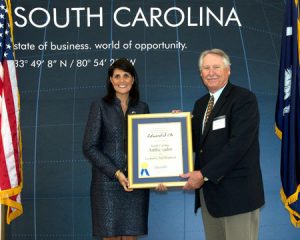 COLUMBIA, S.C. – March 20, 2013 – Edward S. Oh, president and CEO of US Fibers, was honored yesterday as an Ambassador for Economic Development by the Department of Commerce as part of South Carolina's Industry Appreciation Week. The ceremony took place in Columbia on Tuesday, March 19 on the grounds of the Governor's mansion and highlighted 47 individuals from 46 counties for their exceptional efforts to bolster community and economic development activities in South Carolina.
"South Carolina is becoming the new 'it' state for doing business. And industry and local leaders are helping show the nation and the world the benefits the Palmetto State has to offer companies. Today we celebrate the local leaders who are making a difference and improving the competitiveness of their communities," said Gov. Nikki Haley.
Oh and his Pac Tell Group opened US Fibers in Edgefield County in 2004. Since that time they have expanded several times, most recently in 2012. Multiple states were courting US Fibers for these investments but both times Oh made the commitment to Edgefield County. He and his leadership team are involved in various business associations promoting growth throughout South Carolina. In 2012, Oh was elected president of the Korean Trade Association for the Southeast.
Since 2004, Oh has continued has expand his company's presence in South Carolina four different times, each time doubling in capacity and employment.
"Economic development is a team effort, requiring input from organizations and individuals across the state. South Carolina continues to enjoy economic development successes because of the work of the individuals recognized as Ambassadors for Economic Development. They are a vital part of Team South Carolina," said Secretary of Commerce Bobby Hitt.
Each year the Department of Commerce joins local communities to thank businesses for their vital contributions to South Carolina's economy.  The Department of Commerce kicks off Industry Appreciation Week each year by recognizing individuals throughout South Carolina as Ambassadors for Economic Development.  These individuals include local leaders from the private sector representing a variety of businesses and economic development organizations committed to securing new jobs and investment in their communities.