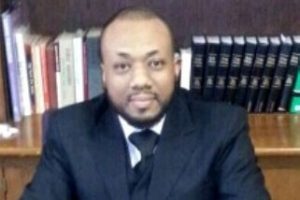 By: Kittye Craig – Jackson / McCormick Messenger 
The communities of this area will be interested to know that LaVictor R. Talbert, Sr., is a 1994 graduate of Strom Thurmond High School.  Ed. note.
LaVictor R. Talbert, Sr. is scheduled to preach his initial sermon at 3:00pm – Sunday, March 10 at the Greater Fellowship Missionary Baptist Church/Charlotte where the Rev. James W. Brunson, Sr. is the pastor.
Talbert is the second son of Albert and the late Louise Talbert. He is a native of Edgefield County, a mass communication major/Savannah State University, and is presently a student at Gordon Conwell Theology Seminary in Charlotte.  Talbert is employed in the mental health field preparing children with behavioral problems to return to a regular class room setting. He and his wife of 10 years Shana' are the parents of 2 children; and expecting their third child in late July or early August, they reside in the Indian Trail area of Charlotte. He is a 7 year member of Greater Fellowship MBC and has served as a deacon for 5 years.
The initial sermon is given after one has publicly accepted their call into ministry. Talbert said he had been running from God's call for 12 years when finally he realized that when God calls us we should step forward in faith without having to be coerced by anyone. He simply decided to step out on faith by heeding to God's calling, and honoring His faithfulness. "I've become confident that whatever God has called me to do" he said "I know He will provide exactly what is needed to see it through – to see me through".
His text will come from the Book of Ezekiel 37: 1-10; and his sermon is entitled – 'Can these bones live again.'  "I still can hardly believe I'm a preacher," stated Talbert "but I do believe that God is working in my life so I do have something to talk about. God has given me a voice, and I will be using it to glorify Him and build His kingdom. And the words I'll share with the congregation will prove themselves true just by the fact that God has chosen me to be there preaching them".
A bus will be traveling from McCormick to Charlotte for this occasion – for more information, please contact Albert Talbert.