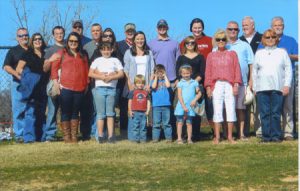 On Saturday, March 9, three generations of Kelleys and friends attended "Mimi Kelley Day" at the Newberry College vs. Tusculum baseball game in Newberry. Newberry is coached by Russell Triplett, son of Dusty and Debbie Triplett of Johnston.
Throwing out the first pitch was Paul Kelley, oldest son of Mimi Kelley.
After the ceremonial first pitch, everyone enjoyed an afternoon of telling stories, remembering Mimi and watching baseball. Mimi was a faithful fan of the sport, and although her children were all active in the sport, she proudly supported the accomplishments of many others including Coach Triplett as from his t-ball days to the college World Series as a Clemson player. And Newberry cooperated by beating Tusculum 3 to 1.