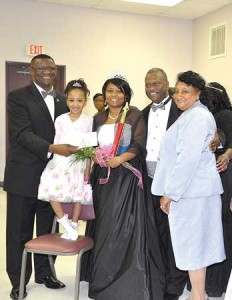 The annual Heritage Banquet of the Mount Canaan Association Inc. was held on the historic Bettis Academy campus on March 16. The program was directed by Rev. Sammie and Mrs. Cynthia Williams who served as Toastmaster and Toastmistress. After the invocation by Rev. Nathaniel Langford the banquet got started with the welcome address from Little Miss Josephine "Josie" Simone Hamilton, Miss Mt. Canaan Association 2012. She was a 4-year-old when she won last year. Rep. William Clyburn presented to Mrs. Aimee Mathis a resolution to honor her for her work through the year. This was a State of S.C. Resolution to be placed in the state house. Hon. Willar H. Hightower, Jr., (council member for District 8) also had greetings and tributes.
The Peterson family of Mt. Canaan Baptist and the Guyton brothers provided the music. After Rev. Lloyd blessed the food, we enjoyed a delicious meal of roasted chicken, green beans rice, candied yams, rolls cake and lemonade. Just before the recognition of the contestants for the Queen  Moderator Dr. Albert M. James had special moments to share with the group. Rev. Dr. Alexander Pope introduced the contestants.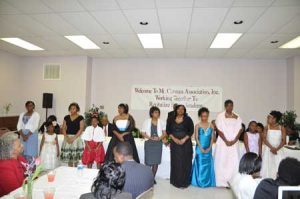 Miss Nicole Jarvis of First Providence won the title and was crowned Miss Mt. Canaan Association's Queen 2013. She was crowned by last year's winner, Little Miss Josephine Hamilton. first runner-up was Miss Taylor Cooks (Second Providence), second runner-up was Ms. Caitlyn Hammond (Mt. Sinai Baptist) and third runner-up was Miss Riley A .Brightharp (Mt. Canaan Baptist). Other Queen contestants were Miss Deja Basket (Bethlehem Baptist), Miss Katherine E. Lewis (Science Hill), Ms. Algerina Mays (Valley Fair), Miss Nakia Moton (Republican Grove), Miss Briele Sierra Potts (Pleasant Grove), Ms. Mattison Reddick (Old Macedonia), Miss Alicia Simmons (Randall Branch). Mrs. Hazel Cadle of Beaver Dam Baptist was sick and her church sent an interesting biography for her. She graduated form Bettis as valedictorian of her class of 1948. Her mother, Mrs. Amanda Calhoun, also graduated as valedictorian of her class of 1918. Mrs. Cadle, who worked in the Aiken County school system for 40 years, has been very active in the Mt. Canaan Association until recent years. Rev. James gave a special thanks to all contestants, churches, pastors and the culinary team along with others for making the program a success.
submitted