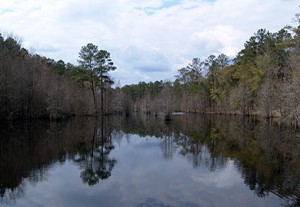 Aiken County's Crackerneck Wildlife Management Area and Ecological Reserve will be open to the public on Saturdays during the month of May (4, 11, 18 and 25).
Crackerneck Wildlife Management Area (WMA) and Ecological Reserve consists of 10,470 acres owned by the U.S. Department of Energy. The area is located in Aiken County, along the Savannah River and south of the town of Jackson, off SC 125. Access is through the check station gate off Brown Road.
To request a detailed map of the Crackerneck Wildlife Management Area and Ecological Reserve, including special rules and regulations, contact the S.C. Department of Natural Resources office on the Savannah River Site at (803) 725-3663. You may also request the map by e-mail—please include your name and postal mailing address and send it to CaudellM@dnr.sc.gov. Maps are also available at the check station where visitors sign in.
The area will be open for scouting, fishing and some other outdoor activities. All visitors must sign in before entering and sign out prior to leaving. No managed trails exist on the property. Bikes and horses are confined to the 50-mile road system and selected firebreaks. No weapons are allowed during this period. Hours are 6 a.m. to 8 p.m. Insect repellant is recommended for all users and recreationists should bring their own water. One port-o-let is located at the check station. May is rarely crowded on the area.
Although May is usually not conducive for scouting because hunt seasons are not imminent, hunters are still encouraged to make use of these open dates. They can be productive, especially for hunters planning on utilizing Crackerneck for the first time. Habitat changes are continually occurring due to timber harvests, prescribed burns, weather events and road construction.
Fishing will be allowed although anglers should be aware that due to extremely low water last summer, catch rates will be poor. Limited opportunities exist in Skinface Pond where the bass limit is two per person per day with a 14-inch minimum. A couple of swamp lakes are accessible with small boats.
No bike trails exist at the present time. Mountain bikes are restricted to the 50-mile road system and selected firebreaks. Most roads are improved with crush-and-run, but offer relatively smooth riding.
Great opportunities exist for birders to view spring migrants and summer or permanent residents. Birding for terrestrial species is productive and easy due to the road system that traverses a variety of habitats. Wetland species occur, but are difficult to access and observe. S.C. Department of Natural Resources (DNR) personnel at the gate can provide locations for species of interest.
No hiking trail exists at present, but the 50-mile road system goes through scenic areas and is a suitable substitute. In addition, hikers can utilize a 30-mile network of firebreaks that will get them off the beaten path. The more adventurous hikers can blaze their own trails just as hunters do. For anyone entering the Savannah River swamp, a compass and/or GPS Unit are strongly recommended.
Many people just enjoy touring the road system to see what can be observed, whether it be wildlife, wild flowers/butterflies, old home sites or cemeteries, forestry and wildlife management practices, etc. The entire 50-mile road system can be enjoyably ridden in under four hours. All roads, including jeep trails are maintained in excellent condition.
Limited opportunities exist for canoeing in Skinface Pond or a few accessible swamp lakes that are picturesque. Alligators, snakes and a variety of water birds will be encountered. Access to Upper Three Runs Creek is prohibited for any reason.
Horses are limited to the 50-mile road system and selected firebreaks. While most roads are crush-and-run, they are well vegetated and horses seem to handle them well. Main roads have wide clearances so shoulders are an option. Firebreaks can be utilized when not planted for wildlife. Several places around Crackerneck are large enough to park several horse trailers.
Photographers have grand opportunities with wildlife, wild flowers, scenic vistas, and forestry and wildlife management practices to name a few. However, photographers should have realistic expectations when trying to photograph wildlife. While abundant, wildlife at Crackerneck are truly wild and elusive. Stealth is necessary for success. Most animals are more active at dawn and dusk rather than mid-day.