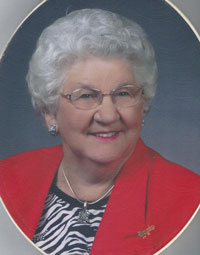 JOHNSTON, S.C. – Mrs. Dorothy Lee Oates (Dot) Herlong, 91, entered into rest on April 8, 2013 at Edgefield County Hospital. Services will be held at Harmony United Methodist Church on Wednesday, April 10, 2013 at 2 pm with burial to follow in the church cemetery. The family will receive friends Tuesday evening at Bland Funeral Home from 6-8 pm.
Born in Chester, SC, February 15, 1922, she was a daughter of the late Jess Havries, Sr. and Lillie Jordan Oates. She was an honors graduate of Chester High School and Magna Cum Laude graduate of Winthrop College, receiving her BS degree in home economics. Mrs. Herlong was an Assistant Home Demonstration Agent and was one of the first women to be promoted to County Extension Agent with the South Carolina State Department of Education (Edgefield County) and the Clemson Extension Services. She retired after 34 years of service. She was a member of the South Carolina Home Economics Association, former president and member of the Johnston Woman's Club, and a leader of the 4H Club. Mrs. Herlong was a member of Harmony United Methodist Church, where she served on many committees throughout the years.
She is survived by a son: Dan Michael Herlong, Johnston; three grandchildren: Molly Herlong Caldwell (Dave) of Summerville, Ga; Frederick Cavanaugh Herlong, Greenville; William Franklin Howard, III, Aiken and their mother, Mary Anne Cavanaugh, Aiken; two great-grandchildren: Virginia Grace Herlong and Kate Cavanaugh Herlong, Greenville; sister: Frances O. (Frankie) Lewis of Gastonia, NC ; niece: Callie Mason and a number of other nieces and nephews. Mrs. Herlong was predeceased by two brothers: Jesse and Bill Oates.
Memorials may be made to Harmony United Methodist Church, 98 Bouknight Road, Johnston, SC 29832.
Please sign guestbook and send condolences to family at www.blandfh.com.