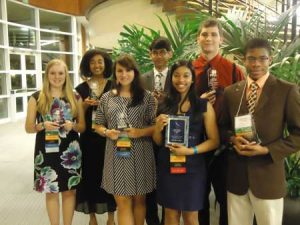 On April 11th seven FBLA members traveled to North Charleston for the FBLA State Leadership Conference.  Over 1,000 members and advisers were present for the conference.  Students attended workshops and competed against students from around the state on Friday and Saturday.  All students placed in their event and did an excellent job of representing Strom Thurmond Career Center.
Strom Thurmond's Chapter was recognized and awarded the Gold Seal Chapter, top 5 of 72 chapters and a membership award for Division II.
Congratulations to the following winners:
1st Place Winners
Antonia Adams – Public Speaking II
Trevor Morris – Sports Management
2rd Place Winners
Shelby Collier – Local Chapter Annual Business Report
Jamarr McCain – Public Speaking I
3rd Place Winners
Maggie Figueroa & Kaeli Wates – Emerging Business Issues
4th Place Winner
Arturo Pineda – Impromptu Speaking
First and second place winners are eligible to attend National Competition in Anaheim, CA in June.