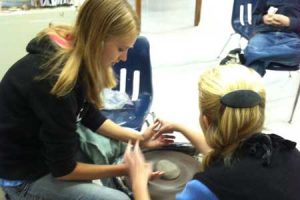 On April 22nd Jane Bess, owner of Jane Bess Pottery in Edgefield, visited Ridge Spring Monetta High School.
She came to teach the art students how to throw clay. She started the demonstration by showing how to make a pot on the potter's wheel.
After she showed the students how, she asked for a volunteer from each class to try it.  While the students' pots didn't come out as refined as Ms. Bess' they did have their own unique look!
—